Discover more from Truth Be Told
Short Stories from a Long Life of Misadventure
Sam
We can't choose our family. But can't we at least choose who we fall in love with? Maybe not. Especially when the one you love is your family.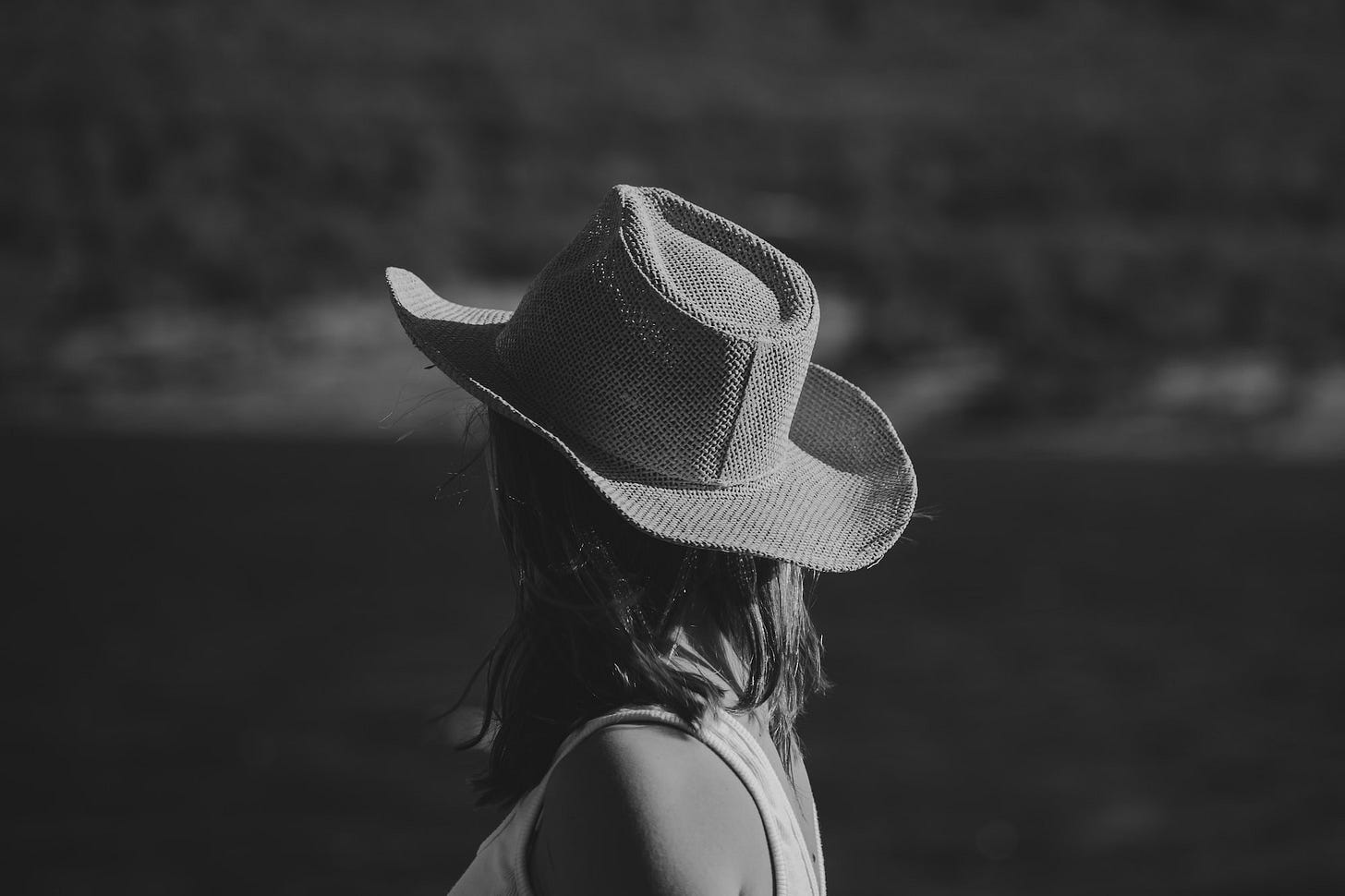 I had a lot of freedom for a high school kid.
Even had my own apartment. An efficiency–built on the backside of Twila's.
Twila was my housemother, and the efficiency was an addition her husband John built a few years before he died.
I helped him build it, and it was perfect.
A simple bathroom with a toilet, sink, and shower. A one-window bedroom, bed on one wall, dresser on the other, and a small living area with a sofa, desk, sideboard, and hotplate.
An exposed metal staircase mounted to the side of the house led up to my own separate entrance.
Coming and going was easy. The space was private, and my business was my own.
Sam and Twila had the entire main house to themselves. Twila's room was on the first floor on the left side, towards the road, behind the screened porch that stretched across the front.
And Sam had almost the entire upper floor to herself.
We had a lot of room in that old farmhouse, the three of us.
After it was good and dark, the house would be quiet with the two of them asleep. I could go into the kitchen, raid the fridge, or even watch a little television if I wanted.
It wasn't a secret.
Twila expected it. And she always left a few things out just for me.
Nothing much—a few slices of roast beef, homemade wheat rolls, enough to make a sandwich. And there was always fresh cider in the fall.
Maybe just one cold Budweiser in the heat of summer—although it would've broke her heart to watch me drink it.
I'd never do it in front of her, that's for sure.
Tonight, there was a couple of bowls' worth of stew in a shallow pot, some homemade bread, a slice of cheesecake, and a fresh quart of Calder's, all set to one side of the Frigidaire.
The television was on in the front room, which was odd. The walls danced with the light of the flickering screen.
I left the milk and cheesecake for later, pulled out the stew, struck a wooden match, and lit the stove.
When I walked into the front room, I found Sam asleep on the floor, book on her chest, arms fallen loosely at her sides, glasses slid down to the end of her tiny nose.
She'd been sitting on the floor with her back against the sofa. Now, she was all but laid flat—save for her little head propped just a bit by the sofa behind her.
"You're going to get a stiff neck," I whispered.
Silence from Sam.
'The Gift of Good Land' lay open on her chest.
"Wendell Berry?" I snickered. "Louis L'Amore ain't good enough?"
I watched the book rise and fall, studying her.
Half-guilty, more than half-aroused. "Sam?" I whisper again.
Comfortable silence.
A smile spread across my face. "Sam!" I chuckled a little louder–but not too loud, either. As if waking her would've broken the spell I was under, just me and her alone there.
I was in love with Sam, but couldn't say it. How could I? She was my sister, kind of.
I mean, we were born a year apart and lived in the same house, but we didn't share any biology.
Sam was adopted when she was just a baby, and I was a foster kid–taken in by John and Twila when I was ten or twelve. We weren't actual family, but still. We were family.
"Sam?" I tried again.
Still nothing from Sam. No permission. No protest.
I crossed my legs and sat down on the floor next to her. Still fooling myself.
I wanted to believe I was there to wake her—prevent her from getting a stiff neck, asleep with her head all propped up like that.
But instead, I just sat with her, watching. Aware of my own heavy breathing. Trembling. Mouth dry.
I shifted and stretched out beside her, propping my own head in the heel of my hand. The cool hardwood floor felt good against the back of my arm.
She was strong and mighty for such a delicate little girl.
Her tiny feet, covered in white cotton ankle socks, poked out of her blue Levi corduroys. Her well-formed calves, strong muscular thighs, and girlish hips filled out the corduroy fabric up to the waistband, where the Levi's bridged across her small, delicate hip bones.
Sam's fawn-brown skin stood out against the cool white cotton of her t-shirt.
Pinching the hem of her t-shirt, I pulled it up just enough to expose her navel, stopping there.
I paused, listening to her breathe.
Her eyes were still closed.
Her lips were perfectly still.
The two longest fingers of my right hand slid into the slim gap between her silky smooth skin and the taut corduroy fabric.
No reaction from Sam.
I flattened my hand as best I could and stretched deeper into the darkened gap, discovering lace.
I withdrew, grazing her warm, smooth skin, and circled her navel with my fingertip.
My breathing was heavy now.
I waited, trying to calm myself.
Sam's eyes never fluttered. Her perfect lips were perfectly still.
My fingers traced the gentle curves of her forearm, up her bicep, and over the soft roundness of her shoulder, disappearing up into cotton shirt sleeve and gliding back down again, along the outside edge of her arm, over her smooth elbow, to her gentle wrist, circling the bone there, then over her delicately veined hand, between each of her fingers, each fingernail, then back across her hand.
The button of her corduroys caught my attention again.
My finger circled the brass button, feeling the rough design and fluted edges, pulling against it, hoping the corduroy would unbutton easily, but no.
My fingers stretched to find the lace of her panties again. Pausing, they slid up to her navel and edged the white t-shirt up a little more, and a little more, until they were interrupted by Wendell Berry, the pages of his heavy book still open against her chest.
I relaxed. Breathed alongside her. Soaked her in with every sense.
Feeling far, far more aroused than I should be.
Twila. What would she think?
My fingers touched the lace again, gliding up, circling her navel—only to be interrupted by the bunched fabric and the honorable Wendell Berry propped upon her breasts, balanced there, the sentinel on watch.
Still, nothing from Sam.
Just gentle breathing. Breathing. Breathing.
My breathing matched with hers, lost in time, emotion, sensation, and arousal, drifting, drifting… Until the sizzling stench of burning stew snapped me back to reality.
"Eric? Eric, is that you out there?"
I sprung to my feet and dashed into the kitchen with Twila's slippered footsteps flip-flop flip-flopping close behind.
"Sam? Sam… Samantha! Honey, wake up," I heard her say.
Thud—Wendell finally retreated, sliding off Sam and onto the wooden floor.
"Oh, hey, mom," she mumbled. "I must've fallen asleep studying."
"I see that," Twila said.
"And you'll have the crick in your neck to prove it come morning, that's for sure. What's on fire out here?"
"It's me," I called. "Just burning your famous stew here. Wasn't hot enough," worried my nervous laugh would give me away.
"Well, look at you," Twila said, poking herself into the kitchen, robe cinched tight, arms folded across her chest.
"Like you've seen a ghost," she added.
"A ghost…?"
My eyes jumped past Twila's shoulder to catch a glimpse of Sam tip-toeing down the hall, looking back once before turning away and tip-toeing up the staircase, disappearing out of sight.
"Sorry, Twila. What did you say?"
"Well, aren't you a hoot?" Twila said, looking me over.
"Slop that out to the hogs, will ya?" she added, waving a hand near her nose.
"That stink'll keep me up all night. I'm back to bed—unless you need help burning down the rest of the house?"
"No, ma'am," I said. "Looks like I'm doing pretty good on my own."
Twila spun off the door frame. "Goodnight, Eric," she called back, disappearing too.
"Yes, ma'am," I said. "Goodnight."
The next afternoon, sweeping the horses' stalls, Sam appeared, slapping her tan leather gloves against each thigh as she walked inside the stable, dust billowing off her jeans.
"Ranger looks better," she said.
"He does, doesn't he? Healin' up real nice," I replied.
Sam walked past me to Ranger's stall, caressed his muscled jaw, and whispered sweet nothings to the stubborn old horse.
"You didn't have to be so sneaky about it, you know," she said at last.
"I mean, it was nice, I guess, what you're trying to do. But Mom would've figured it out. Give her some credit."
Shit.
I could feel her eyes following me as I pushed the broom across the concrete floor, but I couldn't bring myself to meet them.
Sam moved away from the old horse and started across the stable floor toward me, looking down, her hands shoved deep into her back pockets, scuffing her heels with each deliberate step. Taking her time.
"You didn't even try, did you?" she asked, stopping an arm's reach away.
My sweeping stopped. I stiffened, stood tall, and turned to face her.
Good God, those eyes. Black as night, those eyes —two little black almonds blazing with fiery intensity—just burning right through me.
She was small, but she was fierce, this little girl.
Although she wasn't so little—not anymore. I'd watched her grow well beyond girl.
"She would've figured it out," Sam said. "Mom. She would've figured it out. Hired some hands, leased some land. She would've figured it out. I mean, your grades were just as good as mine. You could've got in, got a scholarship too… But, Mom says you didn't even apply."
"College just isn't for me, Sam. And there's no way Twila could ever run this place by herself, no matter what she says. Besides, this is your dream, not mine. College is where you belong. You worked hard for it, you deserve it. I mean, look at you, Michigan State, full ride, dorms, parties, meeting people from all over the world—and hey, I bet you won't be the only Asian kid anymore, right? Am I right?"
That got her laughing—got us both laughing.
"No, I'm sure I won't be the only Asian kid," she said.
There was a gentle softness to her when she laughed, this serious girl. It melted me inside every time.
"But what about you?" she asked. "What about building things, running your own construction business someday? What about all those plans?"
"You remember all that?" I asked.
"I remember everything," she said.
We stood, locked in each other's gaze, just an arm's reach away.
Me holding a push broom—and her, holding a part of me I didn't quite understand yet, and maybe shouldn't try to.
"Okay, you two, let's go!" Twila called. "Delivery's here! Let's get this hay up before the weather turns."
It was busy that summer.
We built another set of stables with larger stalls, strung more fences, and expanded the trails for group rides and guided overnight camping events.
Sam was our most popular guide, as always. She kept a full schedule, and I didn't see her much—except for when she needed something fixed or to let me know a trail needed to be cleared of fallen tree limbs and such.
Before we knew it, apple season was here, and it was almost time for her to leave.
Twila decided it would be nice to shut down for a week so we had time together as a family before her baby went off to the 'big city,' as she put it.
"It's Lansing, Mom," Sam told her. "A few hours away. It's not like I'm running off to Manhattan."
"What do you think, Eric?" Twila asked.
"I think we should take a ride," I said. "A long one. And I think Sam should lead it."
"A ride?" Twila repeated.
"Yeah," I said. "A ride. The three of us. Take the week. Camp out. Enjoy everything we've built here instead of working at it so hard for a change. And Sam should lead the way, that's what I think. One last run."
Sam stared right through me.
I couldn't tell if she was angry or just couldn't imagine what it would be like, dragging her mom and me around all these trails one more time before she left for school.
But either way, Twila loved the idea. She hadn't been out on the trails in years, and to have all that time together, just the three of us—she was tickled, to say the least.
It was all she talked about for the weeks leading up to our little vacation.
We rode slow and easy the first day, clip-clopping along over the switchbacks and hillsides.
It was pretty, the way Sam planned it.
Aspen, birch, box elders, and poplars were turning all shades of amber and gold.
Orange and reds were tipping the maples like bleeding sunbursts from tip to trunk.
Twila couldn't wait to have our first dinner over a fire. She'd gone out of her way to pack quite a spread, and Sam told us she knew just the place.
The sun was sinking into the treetops and glinting across the lake, twinkling like a blanket of stars under the dusky sky, s we set camp.
I put up the tents, gathered wood, and stoked a good fire for the night as Twila set herself up to cook. Sam had wandered down to watch the sun settling behind the trees across the lake.
"You all set here, Twila?" I asked.
"Oh, I'll figure it out," she said. "Go find Sam, the food will be ready soon!"
I walked down to the lake with an ache in the pit of my belly. Maybe I was just hungry, but I didn't think that was it.
Sensing me behind her, Sam spoke. "Remember this place?"
"I do," I said. "You brought me here. Right after that case worker dropped me off. God, what was her name? Cranky old lady too."
"Miss Donovan," Sam laughed. "And boy, did you ever hate her."
"I did! Yeah, jeez." I shook my head.
"That's so embarrassing. What was I so angry about back then? Always so angry. Woke up angry. Every day—just angry."
Sam giggled, turning to face me as she nodded in agreement.
"You really were," she said. "Like a character out of bad John Hughes movie."
"Ouch!" I winced. "You really know how to hurt a guy. I wasn't that bad, was I?"
Sam shrugged, raising her eyebrows.
"Really?"
"You're not easy to navigate," she said. "You can be a little… I don't know…"
"Quiet?"
"Stand-offish, actually."
Sam looked away, squinting into the sun.
"She loves you, you know. Mom. She really does. Calls you her son—though she'd never say it in front of you. She thought it would upset you."
"Why? What do you mean?" I asked.
"You couldn't wait to move into the efficiency when Dad died," Sam said.
"I just needed my own space," I said.
"And we needed you," Sam said.
"Ouch. Yeah, point taken," I said. "Sorry."
Sam turned to face me. "He loved you too, you know. He just had a funny way of showing it. He was hard on you for your own good. You know that, right?"
"He taught me a lot, that's for sure," I said. "It was never easy between us, but I think we'd probably get along a lot better now."
"It was his idea," Sam said.
"The adoption. Mom has this feeling he was trying to make amends for all the awful things he saw and did while he was there...in Vietnam."
"Sounds funny to say it sometimes, Vietnam, like it should mean something to me, but it doesn't. Meant a lot to him, though. That place meant something to Dad."
Sam looked down and kicked at the rocks.
We both watched the ripples fan out from the shore.
She cleared her throat. "It must have been awful for him there," she went on.
"Mom told me about when they came to get me at the orphanage. Said she saw a different person in him. Scared, humbled, even guilty, she called it.
Like whatever he went through hurt him so deep that he had to build a hard shell around himself just to survive it. But now he was just really sorry about it all."
I nodded. "Why are you telling me all this?"
Sam shrugged. "I don't know," she said. "It just feels like the right time, I guess. Things are changing. We're not kids anymore, and this is part of it. Telling the truth. Coming clean."
Sam dropped to her haunches, fingered through the stones, chose one, and stood.
"You're hard to get close to, Eric," she went on, examining the stone.
"You're a lot like Dad that way, always so tough, so hard on the outside. You don't ever share how you feel. Sometimes that makes other people feel like they can't tell you what's in their heart either. Like you don't want to know, or maybe you're too tough for all that softness. That makes me sad."
My heart pounded in my throat, my mouth too dry to speak.
I didn't know if I should say it anyway, tell her how I felt, so I just stood there, grinding stones under the toe of my boot.
Sam reached over and touched my arm so I'd look at her.
Her eyes, black as night, but soft now, void of that fierce determination.
"It makes me sad that you won't let anyone in, Eric," she said. "You see a few girls, but you've never let any of them get close enough to be your girlfriend."
"You're either working or wandering around the ranch, lost in thought. Makes me think you're going to end up like Dad someday, carrying all your feelings inside the way he did. Sometimes I think that was the real cancer, you know? All that guilt and regret he carried inside."
We stood in silence for a while.
—Sam staring off across the sparkling lake and me, staring at her. Aching to tell her everything, dying inside with the knowledge she'd be gone soon and that I'd never get the chance.
Knowing that she'd be off at school in a few weeks, having fun, meeting new friends.
That she'd probably meet an interesting guy in the library.
He'll be in his third year, studying to become a landscape architect, and they'll have so much in common.
They'll talk about horticulture and native species and permaculture, and urban farming.
He'll take her to parties, but they'll leave early and walk around campus together until late at night.
He'll be kind and thoughtful and a total gentleman. He'll always walk her to her dorm, no matter what.
Then one night, as he's dropping her off, she'll linger, hold his hand a little longer, refusing to let it go, and it won't be awkward.
They'll kiss, and that will be the start of it.
They'll study together in his dorm room or in the library. They'll spend all their free time together, go to football games at Spartan Stadium, sit in the student section, sip Schnapps from his coat pocket, and have so much fun being students at a Big Ten University.
They'll be inseparable and things will be easy between them.
She'll come home for Thanksgiving but won't tell us about her landscape architect. Not yet. She'll wait until she's home again at Christmas, but Twila will have already figured it out by then. She'll already know that Sam has found her special someone and she'll want to meet him right away, so Sam will let her talk to him on the phone one night.
And then, right before we drive her back up to school, Sam will say her landscape architect wants to take her to Hilton Head Island for Spring Break.
She'll tell us his family has a summer place there right on the beach and how nice his mom and dad are. That she met them once when they drove up to take him out to lunch one weekend, and how he wouldn't go with them unless she could go too, and how they said, "Of course!" and were so happy that he had finally met someone as smart, and beautiful, and ambitious as she was.
Everything after that will move quickly, and she will never know because it'll be too late to tell her, and I'll be left to wonder if any of it was ever real or if she could have ever felt for me how I feel about her.
How I will always feel about her.
Sam woke early the next morning. I heard the splash as she dove into the mist-covered lake at first light.
I crawled out of my tent, stoked the embers, threw a few more logs on the fire, and started a pot of coffee.
I sat there on my haunches, poking at the flames, watching Sam swim laps out and back, out and back, sending waves of ripples across the otherwise still waters.
I could hear Twila stirring in her tent, talking to herself as she often did before she eventually came out to join me at the fire.
We said our good mornings and sat there together, sipping at our mugs as Sam made her way to shore.
"She's grown into a beautiful woman," Twila said.
I looked down to the water's edge to see Sam standing, wrapped in an oversized towel, wringing out her hair over one shoulder.
"Hey Twila, can I ask -why didn't you and John ever adopt me -make it official, like Sam?"
Twila fidgeted, rocking side to side on her tree stump.
"We adopted Samantha when she was a baby," she finally said. "Just learning to walk. She didn't have a name, so we gave her ours, and she's been a Nelson ever since. But you," Twila sighed, giving me a quick smile.
"You came with your own name and your own set of rules. You were very clear that I was not your mother, and you would never call John your father."
"I said that?"
"You did. You said that and more. But you were barely twelve years old, Eric, still a child, and you'd been through hell. We never faulted you for that. Your dad, well—John. He saw himself in you. He always said so."
"What are we talking about?" Sam said, joining us at the fire.
"Just that I better feed and water those animals," I said and headed off to my chores.
The next few days were just as beautiful, though not quite as relaxing.
We found a large section of fence crushed under half a fallen oak. I didn't have the tools for a proper repair, but we couldn't leave it as it was, so we jury-rigged it back together as best we could until I could get back to it.
Then, we stumbled on a big patch of marijuana planted at the southeast corner of the property, where we butted up to state land.
Twila wanted to burn it, but I suggested maybe that wasn't such a good idea.
No need to make any enemies in the drug business, I said.
Sam agreed.
Then Ranger started acting up. Twila insisted she take him for one last ride—against Sam's wise counsel and more than a few cautionary words from me—but Twila was the boss, so Ranger was her ride.
After that many days on the trial, Ranger was through and wasn't shy about letting us know it.
I counted four close calls with him before we made camp that fourth night.
By our last night on the trail, we were all pretty frazzled, on edge, and ready to get back to the house.
But things didn't slow down any once we were home.
The final weeks before Sam left were a blur—her packing up, Twila on a rampage about the weed growing under our noses, and me mending fences, tending to stubborn old horses, and picking up Sam's slack around the ranch.
Before we knew it, it was Welcome Week, and Sam had to go.
We drove to Lansing together in the pickup—me behind the wheel, Twila in the middle, and Sam squeezed against the window like she couldn't wait to get there.
Everything she owned was packed in the back and tarped over, nice and tight.
I had to admit the Michigan State campus was incredible. Sam was in for the time of her life.
We met her roommates, got her unpacked, and somewhat settled in.
We hugged, said our goodbyes, and made her promise she'd be home for the holidays.
Twila talked my ear off the whole way home. I've never heard her talk so much.
At one point, I remember looking into her eyes and seeing something there—something I hadn't seen since John's funeral.
She was hurting and just wasn't going to let anyone know it. Proud and stubborn as she always was.
Maybe that's where Sam got it.
When we got to the house, Twila went straight to her room. She said she was getting her jeans on. There was work to be done.
But I didn't wait around.
I knew she needed time to herself and probably wouldn't be coming out of her room anytime soon.
Going up the back stairs to my room felt different.
So detached.
The efficiency itself felt different too.
Empty and hollow.
I went into the bedroom to change, and there, on my pillow, I saw it.
Sam's 'The Gift of Good Land,' by Wendell Berry.
I opened the book.
Inside the front cover, a gift.
Four small, handwritten lines.
Eric,
I was awake. For all of it.
I can only hope that someday, you'll wake up too.
And when you do, if you ever do, I'll be waiting.