Discover more from Truth Be Told
Short Stories from a Long Life of Misadventure
June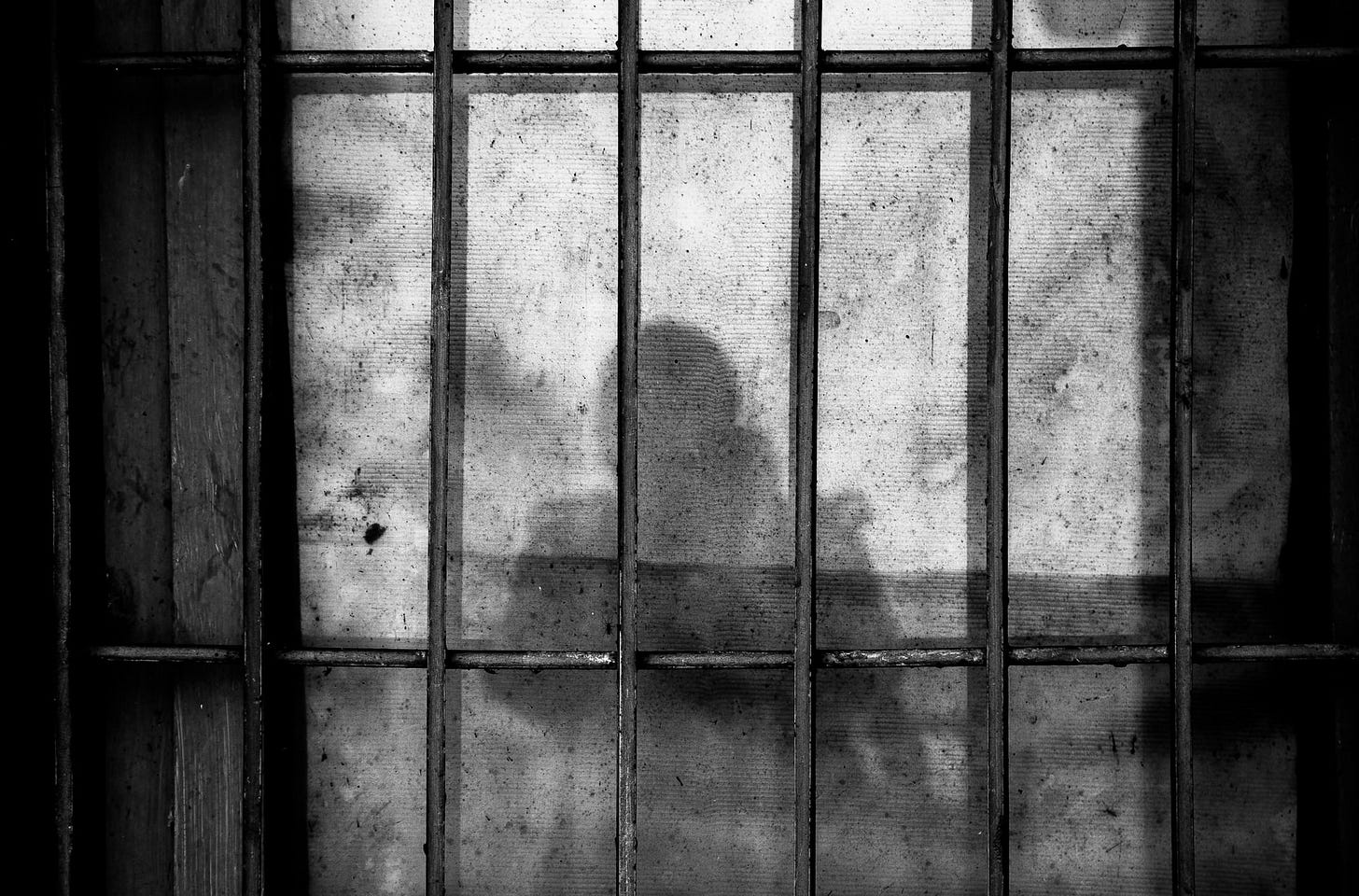 The recorded voice was female, calm, and soothing.
"This is a collect call from a prisoner at the Wayne County Jail. Do you accept the charges?"
June pressed the receiver hard against her ear and cupped the mouthpiece, "Mother! Pick up! It's me, June!"
The high-walled concrete, glass, and steel echoed with the violence of screaming junkies, whores, child abusers, headcases, and killers, all crying for something or someone to take away their pain.
The calm, recorded voice started again. "This is a collect call from a prisoner at the Wayne County…."
"Mother! Please! It's June!" she screamed.
"I accept," she heard Mother say.
"Mother! Why am I here?" June yelled.
"Why are you always there?" Mother yelled back. "How the hell do I know? I know what the police are telling me; that's what I know."
"What did they tell you?" June shouted.
"They say you tried to kill him, June. That guy you had living with you. They say you stabbed him and stole his motorcycle," Mother huffed.
"Guy? What guy? What guy, Mother? What's his name?" June yelled.
"Jesus, June!" Mother shouted back. "Jesus! You said his name was Jesus. You sent me those pictures. 'Look!' you said. 'Doesn't he look just like Jesus?'"
That rang a bell, the Jesus part, but she couldn't remember trying to kill him.
"You have to get me out of here, Mother! Please!" June yelled. "These people are crazy!"
"Well, it's your own fault," Mother mumbled.
"What? What Mother? I can't hear you." But June heard well enough, well enough to recognize Mother's familiar disapproval.
The hum of the line told her they were still connected, but Mother remained silent, being her stubborn self.
"Mother! Please!"
"You do it to yourself, June! Every damn time." Mother finally bellowed. "You never listen! Never have! Always getting yourself mixed up with those, those people," she steamed. "And then you come crawling back to me wanting my help!"
"Mother, please! I'm begging you! He was trying to kill me! What was I supposed to do?" she cried.
Mother huffed. "Serves you right!" she barked, making damn sure she was loud enough to be heard this time.
"You have to get me out of here," June yelled. "These people are crazy! I don't belong here!"
Mother heaved a heavy sigh. "Where do you belong, June? Or maybe I'm speaking to July, all hot, fiery, and festive. Is that who you are today, dear? Are you channeling your festive, free-spirited self these days?"
"Why do you tease me like that?" June yelled back. "Why do you call me by that other name? You know I hate that name. And why do you always think the worst? Like everything's always my fault?"
June waited impatiently, sitting on the stainless steel stool mounted beneath a single payphone embedded in the concrete wall, sneaking quick looks over each shoulder, gnawing her thumbnail, knee bouncing like an addict waiting for a fix.
A sharp tone interrupted the line. A recorded male voice crackled, "You have one minute remaining on your call."
"Mother, please! I'm sorry! You're all I have! Please! I need your help! I didn't do it, whatever they say, I didn't do it, Mother, you have to believe me! Please!" she screamed.
Mother held the long silence.
"You have to stop drinking!" Mother finally yelled. "And stay on your meds, and do whatever the doctors say, including therapy, June. No excuses!"
"Yes! Mother anything! Yes! Whatever you say!" June hollered.
"And you're going to pay me back! Every dime!" Mother demanded. "Attorney! Hospital bills! Everything, June! Every last dime!"
"Okay! Okay! Yes, I will! Yes, Mother! Thank you! I.."
Click.
June's attorney, a local, but the best money could buy, argued self-defense.
The prosecutor, citing numerous infractions, misdemeanors, and potential felonies, settled for time served plus eighteen months probation, outpatient counseling, random drug screens, and a six-month suspension of June's driver's license.
The reckless driving charge stemmed from when June drove Jesus' motorcycle over a mailbox, across a neighbor's lawn, and through a busy city park while fleeing the scene.
June, a skilled programmer, found work almost immediately. She was back in the groove, working remote and putting her life in order.
She had a sponsor, attended her court-ordered AA meetings and counseling sessions, and tested clean at every random drug screen administered over the past six months.
"I got a new job," June bubbled over the telephone.
"Well, that's good to know," Mother replied.
"And it pays really well -even better than my last job. Good vacation time, bonuses, even paid leave if I need it and…."
"And we know you're going to need it," Mother interrupted.
June went on talking, but Mother couldn't hear it, not again, not anymore.
Her ears wouldn't receive it; they were too plugged with the anger roiling up inside her throat, bloating her head, burning, and sickening her belly like bad heartburn.
All the years she'd spent rushing to her daughter's rescue...
All the vacation time wasted, the sick days taken, the savings drained, the failed friendships, and relatives gone silent.
It was so hard to love a child like June.
Could anyone blame her?
"Are you even listening right now?"
"Hello? Mother?"
June huffed, seething her fiery temper through the humming static.
"Fine. You never listen anyway. I'm hanging up, and don't try calling me back. Ever!" she shouted.
"Are you listening, Mother? Are you listening now? You never fucking listen! Don't you ever fucking call me again, do you understand? Never! Never! Ever! Never! I hate you! I hope you fucking die! Some sorry excuse for a Mother you are. You know that? You're never there for me. You've never cared about me and can't stand it when I'm happy. You hate it! You hate it when I'm happy, Mother! I fucking hate you! I hate you, Mother! Do you hear me? I fucking hate you!"
Click.
Mother leaned forward in her tattered old armchair.
Staring straight ahead, she set the phone on the end table beside her, eyes fixed on the carpet where it met the wall on the other side of the room.
At the baseboard where the television used to sit, sold for bail money, to post bond, something.
Sitting alone there, in empty silence, waiting. Waiting for the phone to ring again.
She knows it will.
There is always another call. Paramedics, police, a courthouse, a jail. The morgue maybe, someday, eventually.
Isn't that how this all ends, someone dies?
Maybe she should be that someone.
Maybe that's how this nightmare finally ends.
Trring-ring!
Trring-ring!
Trring-rin-
"Hello, June."