Discover more from Truth Be Told
Short Stories from a Long Life of Misadventure
I've always had a pen in my pocket.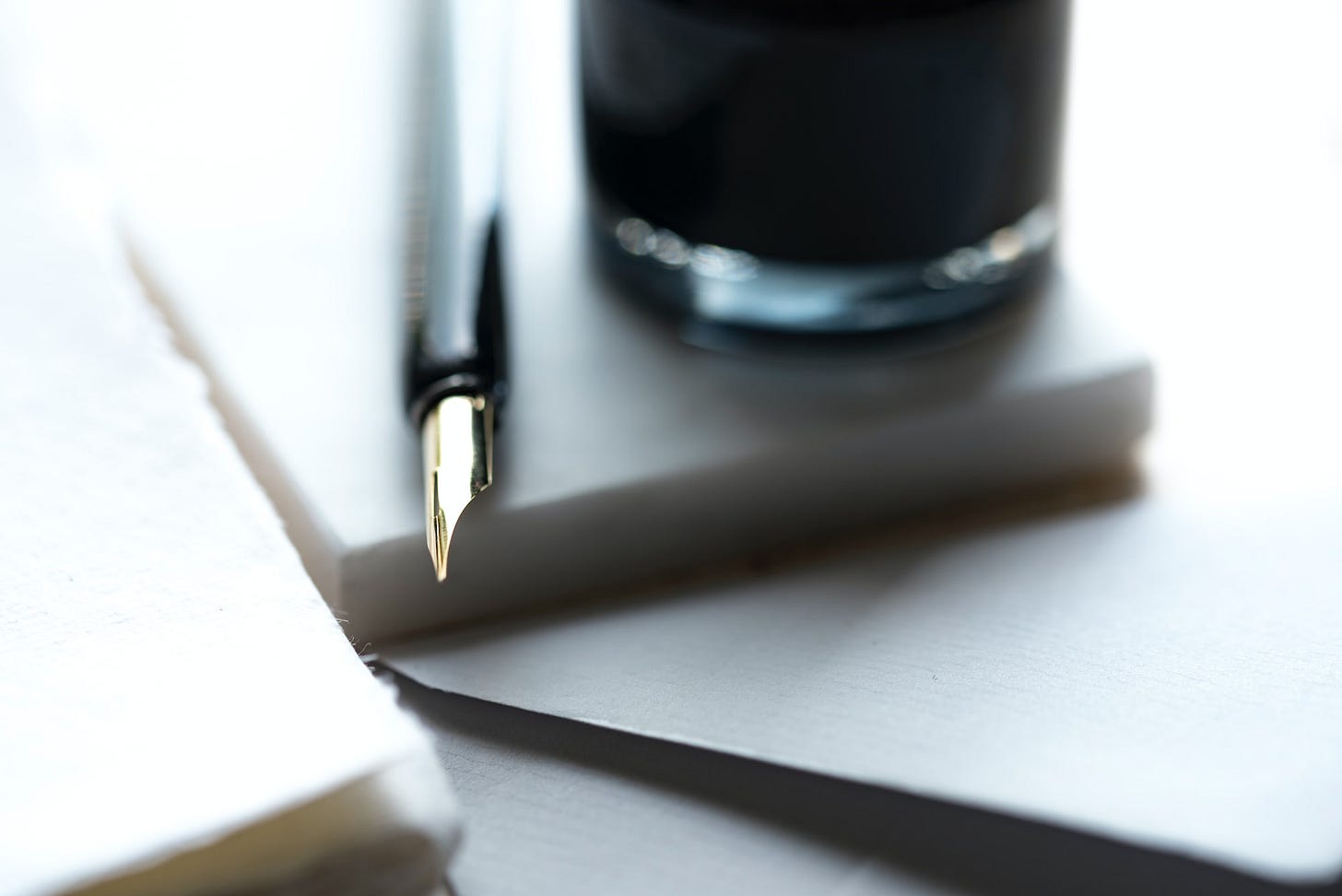 Even in school, where pencils are the rule, I always kept a pen in my pocket.
While the other boys were passing smudgy little notes...
"Do you like me? Circle yes or no," written in dull, stubby, #2 pencil...
My words arrived crisp and clean in bold navy, royal blue, or silky black ink.
"The pen is the tool of a confident writer," Miss Hallman announced as she read my note to the class.
"Christine is a lucky girl," she mocked.
My classmates laughed.
Christine was mortified — never spoke to me again.
But Laura liked my style.
And Linda started trading notes with me too.
The pen is the tool of a confident writer.
When the local grocer hung a sign, "Help Wanted. Apply Within," a steady stream of neighborhood boys came to pick up their application.
"Can I fill mine out here?" I asked.
"Fortune favors the bold, young man. Of course, you can!"
He hired me on the spot.
The pen is the tool of a confident writer.
"The real money is in construction."
That's what the school counselor said.
So I took my pen, went out in the world, and applied until I landed a job.
"What are you idiots doing out there?" the owner barked.
He was eager to get a response.
"Well, sir," I said, stepping forward a bit.
"Today we cut 1/4 mile of roadbed, set the curb, and spread 500 ton of stone," I reported.
"It's all right here."
"What's this?" he yelled, yanking the clipboard from my hand.
"I call it a Daily Worksheet, sir."
"Just something I do, writing down what we did, just a way for us to keep track."
"Congratulations, kid. You just got promoted."
The pen is the tool of a confident writer.
With long blond hair and deep brown eyes, she looked the cheerleader type.
It was college, but still, we passed notes, like in grade school, and became inseparable friends.
But as the semester waned, I felt I might lose her and never see her again.
On the last day of class, I passed her a note as we walked into final exams.
"I don't know where we go from here," I wrote. "We may never see each other again."
I wrote it all out with my trusty pen.
"It would mean so much if we could just stay in touch."
I wrote my address, telephone number, and name.
She smiled and tucked my silly note into her backpack.
Is it the end?
Three weeks later, she called.
Five years later, we married.
As my skills improved, my arrogance grew
There wasn't anything I couldn't have.
Forging checks with false intent, my world – a wicked web of lies.
But karma, swift and just, would not relent, exposing my demise.
I went away to prison, a broken soul.
I wrote home to my wife, children, family, and friends.
A few replied back.
Most didn't.
Our youngest wrote the most.
Drawings, really.
Crooked gingerbread houses and stick-figure Crayola families holding hands under beautiful watercolor skies.
Then, with time, words—all written in pencil.
"Why pencil, Sweetheart?" I asked.
"I miss all your beautiful colors."
"In case I mess up," she wrote back. "I can do it over."
"Oh Honey," I wrote,
"Nothing you do is ever messed up. And your words are the most beautiful I've ever read."
Four years away,
I'd missed so much.
She grew up.
I was stagnant. Lost touch.
Writing kept me going. Only writing to myself.
When nothing else made sense, words were my wealth.
My pen – my ticket home.
My ERD approached: my Earliest Date of Release.
So I wrote to the Parole Board, explaining the time I'd put in and how hard I'd worked to reform.
I wrote of my service, my duty to others, and how much I'd grown.
I pleaded my case in flawless prose, expressing my deepest remorse.
Odds were good; if they understood, I was sure to receive my parole.
But a few weeks later,
...while out on the yard, waiting in line for the phones.
A man reached out; he reached for all that I had.
"Just a hot second," he said. "I need your pen."
I took a step, knocked his hand away.
Head dipped and cocked to the side, he bared his teeth and yelled.
"I won't ask again. Let me get that pen!"
I shook my head again and stood my ground.
No way he could ever understand.
It wasn't a pen, not just a pen but a tool in my confident hand.
He left me alone, the deal was done, but it was far from being over.
So I waited.
When he made his move, I turned to meet him.
Gave him everything that I had.
We fell to the pavement.
Me still gripping my pen.
Him too, with both hands – after dropping the shank from his waistband.
Ink stains run deep.
The conflict stretched my sentence.
No words could make it right.
My daughter waiting, weary-eyed. Heart in her throat for the father she longed to embrace.
Yet, in my pride, my arrogant pride, I threw that all away.
My pen, once wielded with brazen pride, had etched deep scars on her heart. A tale of sorrow, of broken trust, her blameless little life torn apart.
The lines I'd drawn so recklessly had robbed her of her cheer.
My pen, my curse, my legacy, had cost me those most dear.
Freedom isn't what you think it is.
The parole board wrote back.
My release finally came. By then, I was a shell of a man.
Helping our youngest pack up and move to college. We were in the basement when she found them.
Volumes of journals, hidden away and stuffed in a box, hoping to be forgotten.
"What are these?" she asked.
"Just words," I said.
"Can I read them?" she asked.
"I wish you wouldn't," I said.
Kids never listen.
"You've been writing in pencil for seven years," she told me.
"It started right here," she showed me.
"What happened?"
I teared up, ashamed.
"I really messed up, Sweetheart," I told her.
"I guess I got scared."
"Afraid to do or say anything that I couldn't take back, or fix, – or erase."
"But you told me that words were beautiful," she said.
"And your words, these words," she said, "are the most beautiful I've ever read."
An empty house sure gets lonely.
A small package arrived about six months later.
A pack of pens and a beautiful drawing.
A bright, colorful Crayola family, spread far apart by the blue-green orb of the earth.
Waving to each other under a pink, red-orange, and golden watercolor sky.
And there, there at the bottom of that beautiful landscape...
A note, written in silky black ink, with only three little words:
"Write to me?"
This pen – will once again – become the tool of a confident writer.