Discover more from Truth Be Told
Short Stories from a Long Life of Misadventure
Danny Brown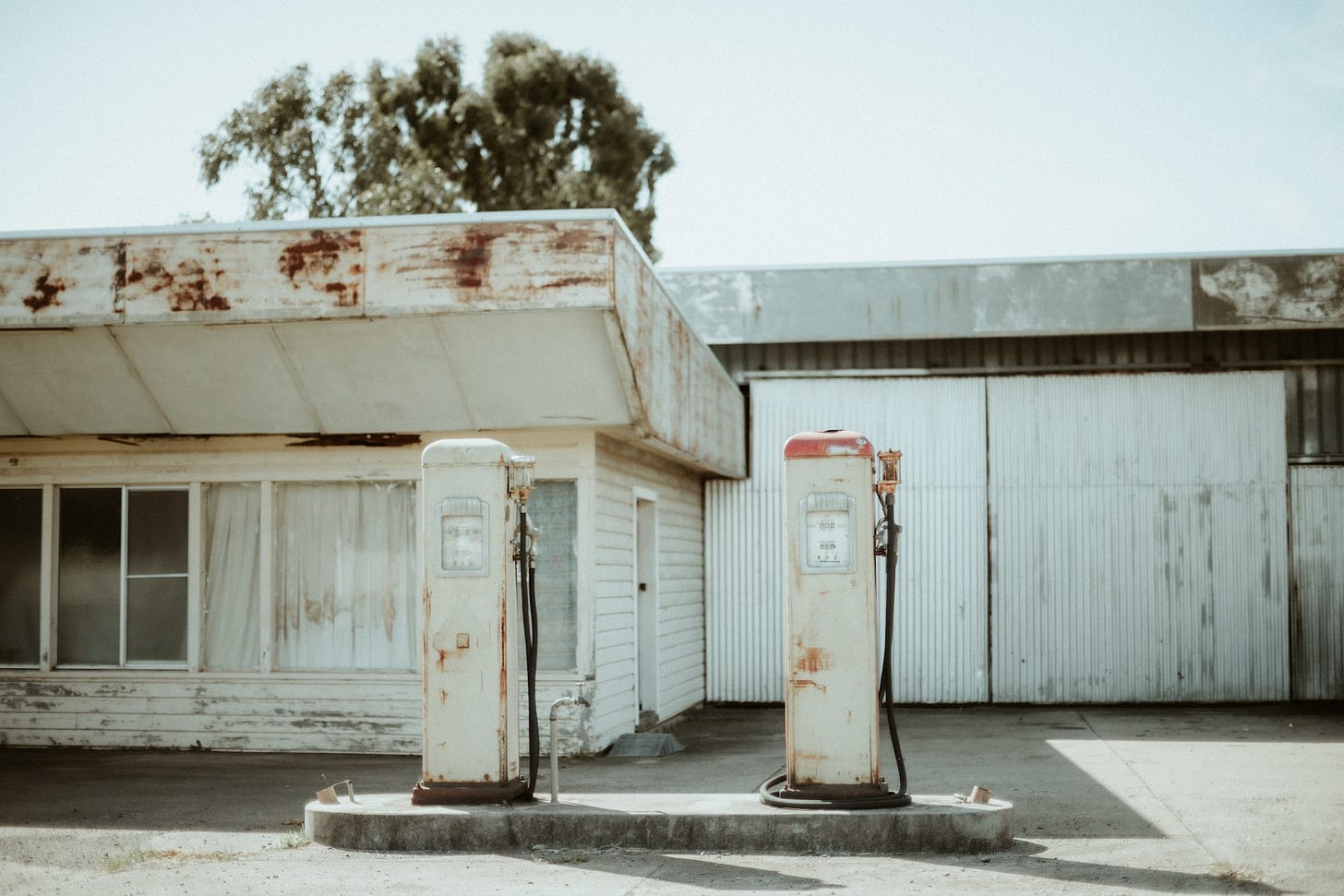 They see me way before I see them.
They always do.
Bullies have a built-in radar for fat, weak, wimpy kids.
"Hey, who said you could walk through?" he says, poking his long, bony finger into my chest.
"Yeah, who says?" they chorus.
Danny Brown and his little gang of look-alikes circle me in the alley behind Sid's Garage.
Danny puffs up, surveying his crew, chin nodding and smiling.
The chin speaks. "You a boy or a girl?" he snickers.
Gooey strings of saliva drip from Danny's crooked yellow teeth and over his thick, wet lips.
"Hey, look," Danny chuckles. "Check out his titties," he says, pinching my chest with a squeal.
"Yeah! Check out them titties!" the goons chime in.
They laugh, grab, pinch, twist, and tweak my nipples, bobbling me back and forth between them.
A quick spin, a boot to the back, and I'm stumbling into Danny–all reared back and ready for me.
Pow! his gut punch folds me like a lawn chair.
Doubled over, eyes bulged, mouth wide open, but my lungs were frozen stiff. Can't breathe in, can't breathe out. My head goes tingly, and the world muffles out as blackness creeps into a narrow tunnel.
The other boys join in. Punching, kicking, laughing, and teasing, taunting me to fight.
"Fight back, pussy! Yeah, fight back! C'mon!"
"Hey! Hey, you kids! Hey now! You leave that boy alone, or I'm calling the police!"
Great. Saved by some little old lady poking her nose into the alley.
If that don't make it worse...
I walk home in tears, roughed up and humiliated—fat little wimpy kid with little girlie titties.
But that was just the beginning.
No matter where I go that summer, Danny Brown and his band of bullies seem to find me.
They won't leave me alone.
Hiding is my only defense.
I stop hanging out with friends, walking downtown, doing anything really—afraid they'll find me again.
My life gets pretty small.  
If that wasn't bad enough, I'm about to start a new school in the fall: Junior High.
I'll be in with the big kids now, and I'm scared of that too.
First day of Junior High, riding the bus, who sits behind me?
Danny Brown and one of his little bully buddies.
Flicking my ears and kicking my seat. Taunting. Teasing. All the way to school.
That afternoon I don't get on the bus. Instead, I hang back and walk the halls, waiting for the coast to clear.
Then a teacher sees me. "Why aren't you at practice?" he says.
"What practice?"
"Football!" he says. Like I should know.
"I don't play football," I say.
He swings his arm over my shoulder, and off we go.
"Well, you do now," he says.
Truth is, I'm not old enough yet.
I can't officially join the team until 8th grade. But football coaches are always recruiting. "Fresh meat," they call us. "Next year's crop."
The coaches encourage me to hang around. Work out with the team. Lift weights, run, get in shape, learn the plays, and then maybe next year...who knows? I might just earn a spot on the team.
Hey, why not? It's not like I have anything better going on in my life.
Football season gives way to wrestling season, then track and field in the spring; shot put, hammer throw, javelin, and discus.
I'm not a great athlete.
"No competitive spirit," the coach tells me.
But it feels good to be part of something.
I work hard, listen, and help out however I can. Finally, I'm accepted. Part of the team, and I started to feel good about myself.
I'm so busy helping out, lifting weights, and keeping up with my studies that I all but forget Danny and the boys.
Junior High School isn't so bad after all.
I continued that routine into High School, where I discovered girls—although girls never really discover me.
One weekend, one of my football buddies sets me up on a double date.
"I'm doing you a favor," Rick tells me.
"And it's a HUGE favor, too," he says. "Van Halen. Downtown. Cobo Hall. And you get a date for the night. All you gotta do is drive."
"You're really gonna owe me," Rick says.
The night of the concert, I couldn't stop sweating.
I had to pick up my date first, then circle back to get Rick and his girl.  
And I've never even met this girl, my date. So I've got her name, an address, and that's about all.
I drive across town, pull down the street, find the address, and wheel into the driveway.
Typical house for the neighborhood, two-story, white, open porch across the front with a chain swing hanging from a broad upper portico. Like five steps up to the front door.
I shut off the car, pop the door, and just as my fresh white Converse hits the pavement, I peep someone from the corner of my eye.
A dark shadowy male figure standing on the porch, arms folded across his chest.
Probably her dad, right? So, I look up.
Danny Brown.
My throat constricts, my belly sours, and everything shrinks inside.
With one leg out, one leg still inside the car, and sweat stinging my eyes, I freeze.
That long-forgotten fear is back.
But in that same instant, looking up at him there, I realize...
Danny Brown is small.
So tiny—just a little guy and so much smaller than I remember him. He's just a puny little pipsqueak compared to me.
The fear melts away, and a broad, confident smile narrows my eyes and spreads my face wide. Laughter bubbles up and spontaneously spills out of my mouth.
"Ha!"
I stare straight into Danny's eyes and watch the arrogance slide off his face as I swing out my other leg.
His jaw goes slack, and confusion knits his brows as the once fat, weak, and wimpy kid stands, and stands, and keeps standing—all 6 feet 2 inches of him.
I'm not some fat, weak, wimpy kid to pick on, push around, bully and intimidate. Not anymore.
I'm Cameron Taylor. 225 pounds of twisted steel and sex appeal coming to pick up his sister, Bonnie Brown, for a goddamn date.
Across the lawn and up the porch steps, I shoulder past the weak and wimpy Danny-what's-his-name and introduce myself to Bonnie's mother through the screen door.
"Hello there, Mrs. Brown. My name is Cameron, Cameron Taylor, and I'm here to pick up your daughter, Bonnie."
Mrs. Brown smiles.
I side-eye Danny and nod my chin.
"Don't worry, Mrs. Brown," I say. "Bonnie is safe with me. I'll have her home before midnight. You can count on it."
"Oh, and such a gentleman," she says.
"Yes, ma'am," I smile. "Midnight, and not a minute later."
I turn, square up with Danny and look him dead in the eye. "I'll be here," I say.
"I guarantee it."
Danny just shrugs and shakes the greasy mop of hair out of his eyes.

The concert is loud and rowdy fun—my first, and Bonnie's too.
The four of us get some beers, me, Bonnie, Rick, and his date. Bonnie drinks a few, hits a joint, and then drinks a few more beers and gets herself sick.
We drive home with open windows to sober her up. Even stopped for ice cream before dropping off Rick and his girl, but I still have Bonnie home at 11:45 on the dot.
A little messy but safe, chaste, and sober.
I walk Bonnie to her front door and get the nod of approval from her mom.
"Thank you for bringing her home on time," she says with a smile.
"No problem, Mrs. Brown," I say. "Danny out for the night?"
"You might find him at Sid's garage. You know, Sid's across town?" she replies.
"They hang around there after hours, tinkering on those obnoxious hot rods with their loud mufflers and smokey exhaust. Waste of time, if you ask me."
Sid's is clear across town but not too far out of my way.
Besides, the night air is cool, and I'm feeling pretty good.
Maybe I'll swing by and see for myself.
He's there all right, Danny and his band of derelicts.
I recognize them all, wrenching on their cars and drinking their beers, with 'Grand Funk Railroad' blasting from the stereo system in Sid's Garage.
I circle the block.
I don't know why. It's not like I have a plan or anything. But I'm not scared anymore, and I like the feeling.
I kill the lights, pull into the car wash across the street from Sid's, and just study them for a while.
Scrawny dudes in their t-shirts and faded Levi's. Greasy shoulder-length hair. Small, dirty, little kid hands. Bad teeth. Smoking their joints, cigarettes, and drinking their beers.
Who did they think they were, anyway? What made them so special—back then or now?
I think about hunting them down, singling them out, one at a time. Tormenting them the way they tormented me, the way they tormented everyone they'd ever bullied.
One by one, I imagine them laying flat on the ground, bloody and bruised, with my boot on their chests. Their weak little fingers snapped off one by one. Snap! Snap! Snap! They would scream and cry and beg me to stop, but it wouldn't faze me a bit. Snap! Snap! Snap!
The longer I sit there, the angrier I get, and the more I want to do something about it.
Danny leaves first. Fires up his rusted 1970 Chevy Camaro with its dull, faded blue paint.
He tries peeling out of the lot, but the engine just whines as blue-gray exhaust billows out from under the front fenders.
He barely gets a bark out of his mismatched tires as the Chevy bounces out of the drive and skits onto the street.
The others laugh, and Danny flashes his long, bony middle finger out the window.
I can almost see his yellow-toothed grin through his thick, wet lips.
By Monday morning, the news is all over town. Everyone in school is talking about it.
Sid's son, Darryl, was killed by a hit-and-run driver as he walked home from his dad's garage Saturday night. His dad found him on the side of the road not a quarter-mile from their house. Rushed him to the hospital, but it was too late. Darryl died the next morning.
My buddy Rick comes to my locker with his version of the story on Monday morning.
"Hey, did you get anywhere with Bonnie on Saturday night?"
"Don't even start," I say. "I'm still cleaning the puke out of the floor mats."
Rick laughs. "Crazy about Darryl, huh? I mean, what kind of monster runs a guy down and just leaves him there to die? I mean, who does that?"
"Yeah, I don't know," I say. "Pretty dumb walking along that old road. Too dark through there. He should've known better. Driver never saw him, I bet."
"No, but he felt it! That's for sure," Rick says.
"Can't just mow a guy down like that and not know it. But hey,"
Rick leans in. "If you ask me, he had it coming," he says. "Yeah, him and his dad? They were always ripping people off at that shop. I think someone just gave it back to 'em; that's what I think."
"That's wrong," I snap.
"I mean, it just don't seem right."
Rick laughs. "What are you talking about? Darryl was a dick! He was always a dick. Darryl's been a dick since grade school. Remember when he cornered that Theresa girl? That girl with short red hair, the braces, and those big googly-eyed glasses …remember that?"
I shake my head.
"Anyway, he was a dick. It sucks what happened to him, but he was always a dick," Rick says.
"Yeah, I guess so," I say. "Just don't seem right though, ya know?"
"Ahh," Rick says, shrugging it off.
His eyes dart up toward the hall clock above me, and he gives me a shove.
"Don't be late to class!" he says, pushing past me.
Two nights later, I couldn't help it. I'm back at the car wash and scoping out Sid's place. But it's all dark.
I drive across town and past Danny Brown's house next.
The living room is lit up, so I circle the block once, twice, and finally park across the street, down near the end of the block.
I wait in my car; I'm not sure for what. But I start to get edgy, just sitting there, so I hop out and walk.
I walk right back to Danny's.
The front room is dancing in the light of the television as Archie Bunker bellows, "Edith!"
I walk along the side of the house and around the back.
Two second-floor windows scatter light across the backyard.
Bedrooms, I suppose, but I don't know who's is which.
I look around for something to throw, find a handful of landscaping rocks, those little black and red lava stones, and toss one up.
Miss.
Toss another.
A shadow moves across the window and parts the blinds.
The light goes off.
A minute later, Bonnie leans out the back door.
"Hey," she whispers.
"What are you doing out here? Are you crazy? What do you want?"
Bonnie peeks back into the house over her shoulder, steps out, and quietly shuts the door behind her.
She steps toward me, squinting through the darkness, arms folded across her chest.  
With just a few steps, we're standing face to face.
She's not that bad, Bonnie. I mean, she's pretty in a simple way. I guess I never noticed. And fun to be around too. I mean, like as a friend.
"What are you doing here?" she says again.
I shake my head. "I don't know," I say.
"Want to go somewhere?"