Discover more from Truth Be Told
Short Stories from a Long Life of Misadventure
Carl and Rosalina
He knew what he wanted in a woman, and he found it in Rosalina. Rosalina was magical. But Carl was broken now and he knew it. Did he love her enough? Could he?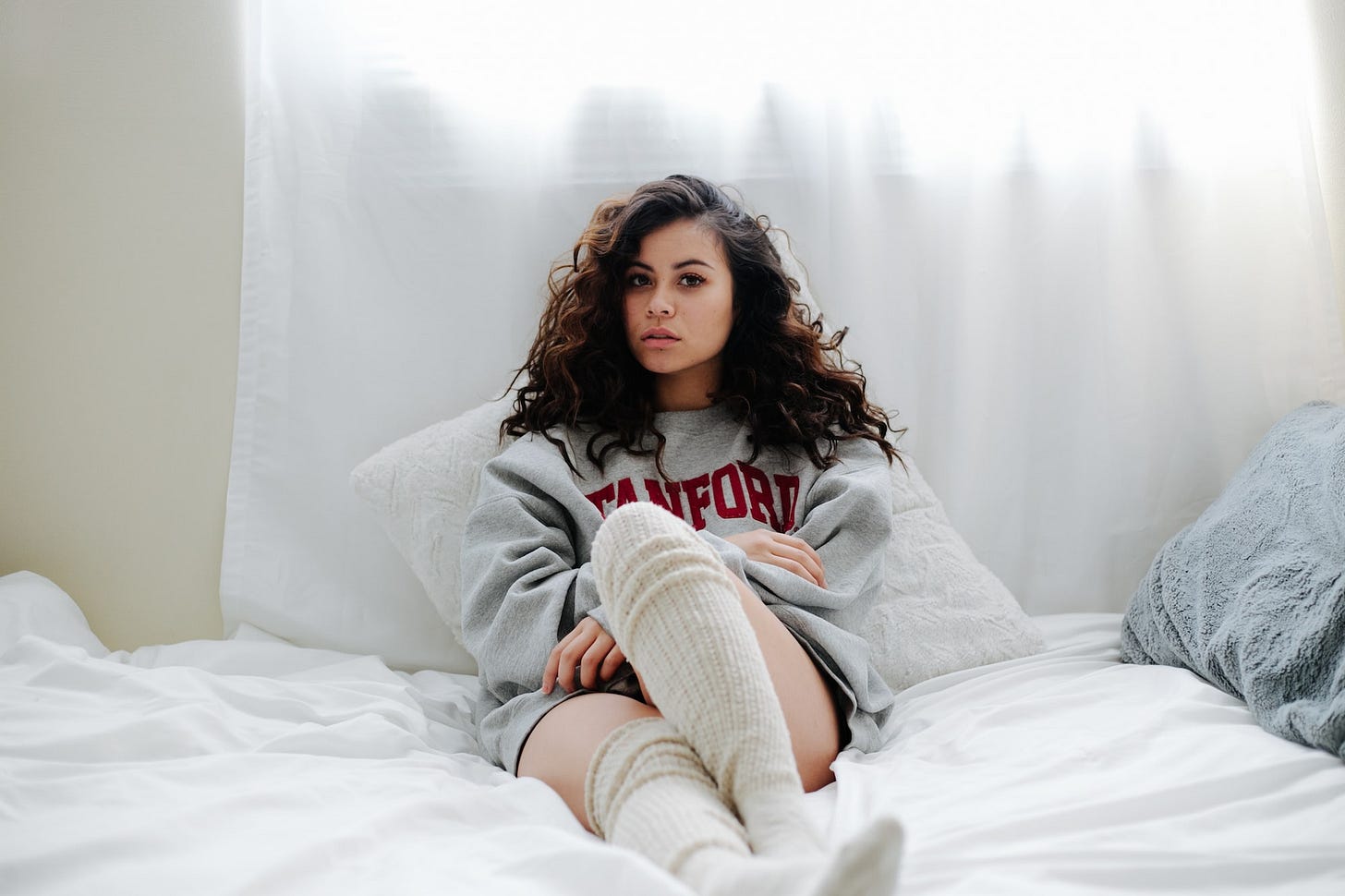 Paco, Roslina's fawn and white pit bull terrier, climbs down from the black leather couch, stretches into downward facing dog, then lumbers towards the kitchen, his nails clack, clack, clacking across the worn hardwood floor.
He sniffs at Rosalina, who's standing at the kitchen counter in a short red floral print sundress, chopping peppers and onions, happily humming what few words she knows to the pop song softly playing from her cell phone nearby.
Rosalina smiles down at Paco. Whorls of her thick black hair tumble over her shoulders, and she motions him over towards his food dish near the back door.
The pit bull turns, clack, clack, clacks across the floor, looks back at Rosalina once more, then gets to work. The steel buckle of his leather collar rhythmically clangs against the silver metal bowl as he laps up water before digging into his chow, crunching and smacking his lips between mouthfuls with his thick, pink tongue.
"Jesus, Rosie! That goddamn dog's gotta eat again?" Carl yells out. "All day! Clickety-clacking around the house, growling and barking at the windows. And the way he laps up that water! I can't hear myself think!" he complains.
That fucking dog! Carl mumbles to himself.
He sits at his desk, hands frozen on the keyboard, staring into his computer screen.
"God, I hate that animal."
And he truly does. Carl hates that dog like he's never hated anything in his life.
It's irrational, this hatred, and he knows it. But there it is, seething inside him, boiling his blood, riling his temper. He gets himself so worked up, that he fantasizes he's torturing the dog sometimes, hanging him by his back legs out in the yard, beating and caning him the way he himself was beaten and caned by Taliban soldiers.
With both hands, Rosalina lifts the sizzling cast iron skillet, setting the skirt steak and onions aside, to the back burner. She rinses her hands in the sink, leaves the kitchen, and goes down the hall into Carl's office, the spare bedroom.
"What's the matter, Baby?" she says, wiping her hands on a clean white dishtowel. "He's just a dog, Honey. Dogs gotta eat, right?" she leans against the doorway.
"Why does he bother you so much? Paco's a good dog, just doing what dogs do."
"But he's so fucking loud about it," Carl says, turning to face her.
"All that crunching, and the way he laps up his water. It's like a never-ending trough over there. It's all I can hear in my head, Rosie," he says. His eyes are narrowed, glaring at her.
And to think she let that damn thing sleep in our bed while I was gone. With his goddamn head on my fucking pillow, to beat all.
"Maybe you come down to the VA." Rosalina says. Her dark eyes searched him.
Carl's head snaps back towards the computer.
"Misophonia. Sound sensitivity," she says. "It's common with PTSD, Baby. And I know you don't want to hear it, but that's what the programs are for. They can help."
"I'm not going down there, Rosie," Carl says, speaking into his computer screen. "I'm not sitting around with a bunch of guys sharing their feelings," he tells her. "That's a negative."
"Carlito," she says, pleading. "You don't want to live like this, right? The nightmares. So angry all the time. The dog…"
Carl swings back around to her. "Okay, okay, I'm sorry. All right?" he says. "I won't say anything about the goddamn dog anymore."
Rosalina gently bites her lip, then disappears back into the kitchen.
It was true. Carl had ears like an elephant now. He heard every little sound. Especially from the dog.
He'd even come to think that dog had something against him. The way Paco would just sit and stare at him sometimes. Carl was sure the dog knew he couldn't stand him—hated him even, that he wanted the animal out of his house.
It's my goddamn house, after all. And if I don't want to share my house with a dog, I shouldn't have to.
But Rosalina loved the dog, and she was a good woman. He was lucky to have her and he knew it. A lot of guys come home to nothing. Their wives up and leave them, end up sleeping around with other men.
Not Rosie. She was good as they come. A fine Latina girl. Carl chose her specifically because of her heritage.
Growing up, Carl worked in his stepfather's construction company. He labored alongside the sons of the Mexican immigrants who had flooded into Detroit and worked in the automotive industry.
He saw how the Mexican girls treated their men, packing their lunches, coming to pick them up when they had too many beers after work. Always dressed well, smiling, always looking pretty for their men. Never bitching, complaining, or nagging them for drinking or getting drunk.
He'd told a buddy once, "White girls just don't know how to take care of a man," he said. "I'm going to get me a Latina when I get home, even if I have to go all the way to Mexico to do it."
"That's some racist shit, man," his friend replied.
Carl shook it off.
He knew what he wanted in a woman, and he found it in Rosalina.
Rosalina was magical.
Feeling a little foolish now, Carl gets up from his desk and silently moves into the kitchen.
Coming up behind Rosalina, he wraps his arms around her narrow waist and pulls her into him, lifting her up, gently biting her neck, and grinding his swollen cock against her ass.
Rosalina braces herself at the stove, arches back, and pushes herself against him.
Reaching up with her left hand, Rosalina grabs a handful of Carl's wavy brown hair, pulling his stubbled face deeper into the crook of her neck.
She likes his longer hair now. It's new. Exciting. She even likes the extra weight Carl carries since coming home for good. She knew what he was capable of, and always felt safe with him at her side. But now he looks the part, too, and that makes her feel even more secure. Like there isn't anything or anyone who could ever hurt her.
Paco's clanging collar stopped when Carl entered the room, and he's in the corner now, perfectly still.
The dog is always visibly unsettled with Carl around, mirroring the unsettled nature of the man himself.
After determining that Rosalina is safe, and she and Carl aren't fighting, but playing some kind of a game, Paco chomps at the air once, twice, slides his long, thick pink tongue up and over his wet black snout, then turns his attention back to his chow bowl, lapping, clanging, crunching, and smacking his lips.
Carl releases Rosalina, kissing her softly on the cheek, he backs away. His dick's gone soft.
That fucking dog.
"Baby, I'm gonna take a walk before dinner, okay?" he says. "Maybe if I just go outside when he eats it won't bug me so much, ya know? I'll be right back," he tells her.
"Not too far," Rosalina says, forcing a smile. "Carne is ready. Tortillas too," she says. "Fresh guacamole tonight!" she adds with a giggle.
Carl glares down at the animal as he walks out the back door, burning a hole the back of Paco's head with his eyes, willing his hatred into the dog.
Stepping off the back porch, he reaches up and overhead, stretching and twisting his sore, bullet-scarred body.
The neighborhood hadn't changed very much since they bought the place twenty years ago.
He and Rosalina were newlyweds then. They chose this spot in Southwest Detroit so Rosalina could be close to her family while Carl was deployed. It was a safe, friendly, family-type of neighborhood. The type of neighborhood where kids play in the street until the streetlights come on.
But still, it was a good thing Rosalina had that dog just in case, as much as Carl hated to admit it. But he was home now. He could protect his own. He didn't need any goddamn dog around.
Stepping back into the house, Carl stumbles over Paco, who can't back away fast enough.
"Move, goddamn it!" Carl yells, waving his arms, shooing the dog back.
"Carlos! Stop it. Don't yell at him," Rosalina pleads.
"Well, he's in my way!" Carl yells. "And why is he always staring me down?"
"He was just watching you out there," Rosalina says. "I think it's cute," she says. Rosalina's eyes light up with her beautiful smile.
"Watching me…" Carl says.
"You're family, it's what he does," she says. "He's a watchdog. Wants to be sure you're okay," Rosalina tells him.
"I don't need no one watching me, Rosie. Least of all a goddamn dog," Carl says.
"Sí, sí," she says, waving him off. "Come eat."
Carl watches Rosalina. His frustration fades into appreciation and arousal. He smiles watching her short, red floral print sundress swishing side to side over her curves as she darts around the kitchen, setting plates and arranging serving dishes on their small dining table.
After supper, the couple clear the table, wash and dry the dishes, then retire to their swing on the front porch.
They sip Don Julio Blanco and watch their busy, vibrant neighborhood slowly turn amber, then bronze, and then darken into quiet sunset.
The couple cherish these sunsets. They don't get many, they know, so they've built their lives around spending as many together as they can.
Tomorrow, Rosalina will be up and out of the house before dawn. Her 12-hour shift at the VA starts at 6:00 am, and Carl won't see much of her for the next three days.
Rosalina will come home, mentally and physically exhausted, collapse into bed, and sleep.
If she wakes at all, she might eat, wash up, but then go back to bed until early the next morning for her next shift. But tonight, they're savoring every moment together.
As the couple slides into bed, Carl spoons Rosalina, nuzzling into her, pulling her back into him tightly.
He's tired, and enjoying Rosalina as she describes all they'll do together; the traveling, the places they'll visit, the family she'll see touring Mexico when she finally retires in a few years.
There's something magical about her voice, listening to her like this. It's the only time Carl can truly let go. His body relaxes. His mind goes blank. Free of the violent imagery, lightning thoughts, and random impulsive ticks he tries so hard to suppress. He listens, smiles, breathing her in.
He sleeps.
Carl wakes in a panic.
Sweating, panting, pulling back soaking wet sheets, he swings both feet to the floor, head in his hands, talking himself down. You're home. You're safe. You're home. You're safe.
They aren't nightmares so much as just …feelings. Sensations, jolts of energy, random images—blurred, obscured, flashing in and out of his awareness. That's all he remembers anyway, and it might be better that way.
Rosalina reaches for him, her hand at the small of his back. "Nightmares, Baby?"
"Yeah," he says. "Sorry about the sheets. Let me get something."
Carl reaches under the bed for one of the comforters Rosalina keeps there for him, just for nights like this. He stands, spreads the fresh comforter over the sweat-soaked sheets where he was laying, and slides back into bed.
He lays there the rest of the night, on his side, his back to Rosalina, staring out the window, watching the moon trace a path across the late summer night sky.
In the morning, Carl strips the bed while Rosalina showers. He makes coffee and packs her lunch while she gets herself dressed and ready.
She's even beautiful in scrubs. Her sable curls are half-up, pulled back from her angular face, accentuating her high cheekbones and beautiful smile —and she's always smiling.
"I might come down to the VA this afternoon," he says to her. "Just to see."
"Oh, Carlito!" Rosalina leaps into his arms.
"Oh, baby! That makes me so happy. Maybe I can meet you!"
"Let's see how it goes," he says. "No promises, okay?"
"Si! Si! Si!" she squeals, kissing him over and over; his stubbled cheeks, his chin, his lips —both hands on his face, pulling him down to her, kissing him over and over in giddy excitement.
"Okay!" he laughs.
"Okay!" she says. "I have to go. I'll see you later…. Maybe," she says with another smile.
And off she goes, soft insulated lunch box slung over her shoulder, keys jangling, and coffee in her travel mug for the ride.
Carl busies himself, cleaning the kitchen, doing a load of laundry, folding clothes, putting fresh sheets on the bed, sweeping the floors, and straightening up his desk.
He's avoiding the trip to the VA, and he knows it.
He looks at his watch.
0832.
He sighs, "You said it. You meant it. You're committed now, soldier."
Paco's tags jangle as he looks up from his dog bed in the front room.
"Fuck you," he says to the dog.
Paco grunts and lays back down.
Carl showers, pulls on Levi's and his flannel.
He makes the 20-minute drive out to the John D. Dingell Department of Veterans Affairs Medical Center in downtown Detroit. Once there, he can't bring himself to go inside.
He sits in his pickup watching service men and women coming and going —some walking, many in wheelchairs or wearing prostheses of one kind or another. Legs, arms, and lives given in service. Men and women, blown up, obliterated, crippled, and contorted from the grizzly business on the other side of the world.
What's your issue, soldier? A couple bad dreams? Tighten up, troop.
Carl starts up his truck and heads in the general direction of home, but not by freeway.
He bypasses the ramp to I-94 and travels the service road for a while.
Lost in thoughts of nothing in particular, he realizes he's idling at a stop sign deep within unfamiliar territory.
Old Victorian-style homes, long forgotten and abandoned, in various stages of decay. Wooden-sash windows boarded or missing. Once majestic and modern, now stripped of anything valuable, inside and out. Front entryways hanging uselessly beyond reach —steps gone, porches rotted through or missing altogether.
Honk! Honk-honk-honk-Honk!
Carl slams the vehicle into park, shoulders open his door and marches towards the noise at the tailgate of his truck.
He counts two male civilians through the dingy windshield of the rusted Ford Taurus.
Hispanic. Young adult. Driver in a Chicago Bulls cap backward. Passenger, black hair slicked-back. Both in black and red checked flannels, top-buttoned over white t-shirts. Probably armed but slack-jawed.
Not a threat. Yet.
Carl steps behind his pickup, palms upturned, shrugging his shoulders. He signals the Taurus to go around.
The Taurus lurches forward, swinging out around Carl's truck, and speeds off.
"Back to the 'burbs, old man," the passenger calls.
Carl shrugs and smiles.
Their home sits on a corner, and Carl always parks on the side street so Rosalina can park up front. But instead of walking through the gate, across his backyard, and in through the back door as he usually would, Carl circles around to the front, up the porch steps, and sits on the couple's swing.
He finds himself hunched over, elbows on his knees, staring down at the palms of his open hands.
He sits back on the swing and checks his watch. 1348 hours.
You gotta find a purpose, old man.
He watches a couple of boys tossing a football back and forth in the street.
"Car!" one of them shouts.
They move to the curb, watch the vehicle pass, then step back into the middle of the street to continue.
Carl stands, reaches into his front pocket, pulls out his house keys, and enters through the front door—catching Paco by surprise. The dog leaps up, barking and lunging forward before recognizing Carl, and retreating, tail tucked between its legs.
Blind with rage, Carl plants his size 12 Timberland boot into Paco's retreating ass and sends him toppling across the hardwood floor. The dog is slipping, sliding, and scrambling to his feet, but Carl is on him again.
Paco pisses where he stands.
Carl grabs the dog by the collar, drags him across the floor, through the kitchen, and out the back door, slinging him out into the yard where he lands in an awkward twist.
Carl feels a flash of dread, realizing he may have really hurt the animal. His brain frantically runs scenarios —excuses.
What's he going to tell Rosalina?
The dog struggles to get his legs under him and finally manages to stand.
The two stare at each other, both wondering what Carl will do next.
"And you're gonna stay out here for the rest of the night," Carl snaps. "I won't tolerate you pissing all over this house!" he says. If only for the sake of anyone who may have witnessed the scene.
Back inside, Carl mops up the floor, then fills a bucket of warm water and oil soap and gets to work, scrubbing on his hands and knees.
He moves furniture, rearranges the living room, and spends the afternoon buffing the old hardwood to a brilliant shine.
Turning right off McGraw onto Tarnow Street, Rosalina squints behind sunglasses.
Almost home. Drained, exhausted, and now sleepy, after driving into the late afternoon sun. She rides in silence, the sounds of her floor at the VA still echoing in her ears.
The beeping, the alarms, the hissing, wheezing cries, the calls from her patients, the dismissive doctors.
She's learned what to hear, what's critical. The rest, the humming static in her brain, only goes away when she can replace it with silence. Most days the ride home will do it. Other days it takes a while longer and sleep is the only answer.
Pulling to the curb, Sevendust's Denial roars through the windows of her home. The front door is wide open.
Aye, Carlito.
A tired smile carries her across the yard and up the front steps.
Sevendust fades and Soundgarden explodes as she pulls open the storm door.
She takes in the new arrangement; sofa against the wall facing the windows, armchair in the corner, her old floors with a new shine.
Something's missing.... but the music!
So loud, Carlito!
Stepping into the kitchen she finds Carl, shirtless, glistening, scouring the tile backsplash above the counter. His worn Levi's hanging below his hipbones.
Her lips part. Her eyes dance over his ruggedness.
"That bubble-butt holdin'em up! Look at you!" she yells.
"And look at this place! You've been busy!"
Carl swings around just in time.
She's got this thing, a tell when she's aroused. The tail-end of her left eyebrow springs up, and he caught her.
Carl raises an eyebrow in return, flicks his wire brush into a red Solo cup, and leans back on the counter.
Opening his arms, he motions for her.
"Come give Papi a kiss."
Rosalina squeals, "Aye, Papi! You all sweaty," she giggles.
Carl bounces off the counter and angles into position, cutting off her escape.
Palms out, she giggles, "No funny business! I mean it, Carlito! One kiss! That's it!"
He corners Rosalina between the stove and back door, where Paco's dish and water bowl used to sit.
Carl presses in.
Rosalina squeals. "Okay, fine!" she laughs.
They kiss.
Carl passionate, and in pursuit.
Rosalina reluctant, but willing.
He field strips her; lunch box to the counter, sunglasses on top of it, keys to the hook on the door frame.
He presses into her harder. She presses back.
"Baby," she says.
"Baby," he breathes.
"Carlos," she says, hands to his face. "Baby, I'm serious. I feel gross from work."
"Me too," he says.
Carl lifts her by the waist and strides across the hall into the bathroom where they strip each other down to their bare skin.
They shower, soap one another, make love, giggle, laugh, and decompress.
A release for each of them, after their long, stressful day.
Wrapped in her plush white robe, she finds him again, shirtless. His pajama bottoms hang off his sturdy frame, standing at the stove, refrying the pinto beans from last night's meal.
"Where's Paco?" she says, scanning the kitchen.
"His bowl. Carlos what did you…"
"Tranquilo, Mamacita!" he laughs.
"Tranquilo! Baby, relax. Paco's outside," he says, turning back to his cooking.
"It was so nice out today, I figured he could use the fresh air, you know? Besides, it was just easier for me to do the floors with him out of the way. They look good, right? The floors?"
"Rosie?"
He spins around, but Rosalina isn't listening. She isn't even there, she's on the back porch, in her robe, with Paco, hand under his jowl, making kissy-face with him, stroking the top of his head.
That fucking dog.
Rosalina shimmies through the back door with Paco in tow, snorting, tail wagging, nails clack, clack, clacking on the floor, prancing in place for Rosalina's attention.
Carl breaks for the door. "I'll get his bowls."
Paco scrambles, skittering across the kitchen away from Carl, his nails finding no traction on the tile.
Stooped over on the porch, Carl deflates in Rosalina's disappointment, his heart aches from it. He knows she doesn't like it when he intimidates the dog, and he knows she recognizes when he does it. But he's got no love for that dog. He hates that fucking animal, and that eats at him too. He should have better control, goddammit.
He brings the bowls into an empty kitchen, fills them, then gets back to dinner duty.
He knows she won't eat, but he still makes her a plate. Dresses it up with garnishes like he was serving a queen, his queen.
Rosalina sits cross-legged in bed, hair in damp tendrils.
She's leaned back against the headboard, strumming through her travel magazines, braless in his old flannel. She wears it as a nightshirt. It's missing a few buttons, but she says that's why she loves it. He doesn't know what that means and doesn't care. He just likes how she looks in it.
With a neatly folded dishtowel draped over his forearm, he presents her evening meal.
"Your poquito burrito, Mamacita," he says, bowing at the waist.
Rosalina's lips manage a smile, but her eyes are too tired. "Oh, Carlos. Thank you, Baby you're so sweet."
Carl sets the plate, a napkin and a fork on her nightstand then leans in for a kiss.
He knows she'll be out before he returns; sound asleep, magazines spread across the bed.
Hand cradling her face, he runs a thumb across her brow.
She smiles up at him and motions for another kiss.
As he turns to leave, Carl hears Paco clack, clack, clacking down the hall and into the kitchen for his own dinner.
He pretends not to notice, but it permeates his brain and bangs between his ears. The dog's nails, clack, clack, clack inside his skull, poking at the gray matter behind his eyes, his inner ears, then clawing their way down to the base of his neck.
Clack, clack, clack, clack, lap, lap, slurp, lap, lap, slurp, then the crunching of dog food echoing off the bowl with dog lips smacking, pink tongue licking, and the rhythmic clang, clang, clang of Paco's collar against the metal dish.
Carl marches straight ahead, past the kitchen, through the living room, and out the front door.
He's to the street before realizing he's left the front door wide open. He interlocks his fingers and stretches tall overhead.
He squats, then sits back on the curb at the bumper of Rosalina's Bronco.
The neighborhood is quiet. The air still. Pockets of cool night air swirl as the concrete radiates what's left of the day's sunshine.
Crickets and tree frogs chirp from the maples and sycamore. Moths and beetles bounce off the streetlights up and down the block.
He thinks about taking a walk. Perfect night for it. But he shakes it off.
All those nights so far from home, how hard he fought, all he endured, all he lost, just to make it back here in one piece.
He shakes all that off too. Reflecting on the past is like opening Pandora's box. Ain't worth it.
This, right here, right now, this. This is what matters. Home is what matters. Rosie. Our life together. Just the two of us. That's all I need.
Carl's skin begins to prickle. Goosebumps from the cool night air force him out of his daydreams and back into the house.
After cleaning up, Carl slips into bed behind Rosalina.
He lies on his back watching shadows dance on the ceiling. He practices box-breathing, counting breaths, body awareness, scanning for tension—every trick he knows, but nothing brings him rest.
Rolling onto his side, he pulls Rosalina into him. Breathing her in, his hand traces the hourglass of her softness; her round shoulder, muscled upper arm, dropping onto her waist and over her hip. His hand glides down her thigh and back up again.
"Baby, no," she moans. "I'm so tired."
He kisses her neck, breathes into her ear, and begins unbuttoning the old flannel, grinding against her backside. He hooks his thumb into the waistband of her panties, and tugs them down over her hips, her thighs, to her knees where he hooks them with his big toe. He shoves the panties into a knot under the sheets at the foot of the bed.
Mocking a weeping child, she pleads one last time, "Carlos, Papi please," but she knows he won't stop.
Carl flips Rosalina to her back and mounts her, wiggling into position between her reluctant legs.
Rosalina submits. The couple kiss, slow and deliberate, stroking each other's faces, fingers entwined in each other's curly locks. Their breathing quickens. Carl fights to contain his frenzied need for release. Kissing his way down her surrendered body, down the center of her chest, her tummy, nuzzling at her navel, kissing his way between her open legs.
Rosalina squeals, "Aye, Papi!"
Clack, clack, clack. Clack, clack. Grrrruff!
Carl jerks to his knees, swings free of the bedsheets, bolts across the floor, and out the bedroom door.
Rosalina cries after him, "Carlos, no!"
But he's gone.
She springs out of bed and gives chase, but Carl is mission-focused; blind, deaf, and dumb to everything but his target.
He's on Paco in a rage, capturing him in retreat, left hand gripping the dog's collar, he's pinned the animal to the hardwood, and he's hammer-fisting the side of the dog's head.
"Carlos! No!"
She grabs hold of his reared back fist, but flips over his shoulder on the downswing, her body tumbling over the dog, she lands on the hardwood in a heap.
Crying, scared, her flannel shirt hanging open.
Rosalina looks back at Carl, naked on his knees, looking down at his open palms, shaking his head, and mumbling.
Tears well up in his pleading eyes.
Rosalina scoops her arm around Paco, sliding him towards her, between her and Carl, she huddles behind the dog.
Carl staggers to his feet, shaking his head, mumbling. He interlocks his fingers at the base of his neck, and slowly, deliberately, walks back into the bedroom.
In a daze, he pulls on his Levi's, then picks up the pace.
Moving with purpose and precision, he snatches a small rucksack from the closet, strides through the kitchen, lifts his keys off the hook, steps into his boots, swings a jacket under his arm, and closes the door behind him.
Tap, tap, tap.
Carl snaps to attention behind the wheel.
The butt-end of a Maglite against his window.
The silhouette of a police officer stands just behind the door post of his truck.
Carl tucks his SIG Sauer tight to his hip with his right hand and cranks down the window with his left.
"What's your status, soldier?" the officer says, beaming light at Carl's chin, flashing around the cabin of the truck.
Carl leans to get a look. "Sir?"
The cop, black, middle-aged but fit, swings the Maglite, giving a nod towards the tailgate.
"Your plate," he says. "Afghanistan. You a vet?"
"Yes sir," Carl says. "Retired."
"Retired. You alright then?" the cop says. "This ain't nowhere to be, or the best time to be here neither."
"Yes, sir," Carl says. "Couldn't sleep. Just went for a drive to clear my head. Parked. Guess I dozed off."
"Yeah," the cop says. "Yeah, I hear you. Hey, listen. Can I buy you a coffee? There's a little place, off Michigan Ave here, near Central, makes the best…"
"I'm good, sir," Carl interrupts. "But thank you."
The cop steps forward, filling up Carl's half-open window.
"No sir," he says. "No sir, you are most definitely not good, soldier. Man comes to this part of town, at this hour, with his sidearm on the seat? That man is not good, no sir. Not good by any measure."
Carl stares straight ahead, hands at 10 and 2.
The cop leans in, resting a forearm on Carl's windowsill.
"Listen," he says. "I don't know the things you've seen, or what you've been through, but I know where you're at with it. I've been there myself and I know. Hell, I'm still working through it. But I'm working through it, ya know?"
He squints in at Carl. "I'm working it out the best I can and you can too. You can do better than this."
Carl locks eyes with the cop. Checks his badge, his nameplate: T. Wilson.
"I'll be alright, Officer Wilson. Just needed some space. Some time to myself."
The cop grunts. "What's your name, soldier?"
"Pratt, Carl J.," he responds on cue.
"Okay, Carl J. here's the thing. Spending time like this off by yourself is exactly the opposite of what you need. Like I said, I don't know where you've been, or what you did in-country. But I do know that you didn't make it out of there all by yourself."
Carl stiffens, eyes fixed on the dashboard.
"No sir, you didn't go in alone. And you sure as hell didn't come out alone. You had a patrol, a squad, your unit. You gave everything supporting those men, and they gave everything supporting you, am I right? Is that affirm, Carl J?"
"Affirm, sir."
Officer Wilson nods.
"Right. See, I thought it would all go away too. I mean, sooner or later it has to, right? The night sweats. Jumpy all the time. Hearing things. Flashes of blurry figures jumping out from the corner of your eye. Snapping off on whoever or whatever triggers your switch, but it never ends, Carl J, it never ends. It never ends and the only way to deal is to let it out. You gotta let those things out with other men going through the same. You copy that?"
Carl's lips tighten. "That's a negative, sir."
"Yeah," Officer Wilson nods.
"Yeah, but guess what, Carl J. This. This right here? What you and I are doing right now? We're talking about it. That's what this is, Carl J. We're just two guys, been in the shit, goin' through whatever, and we're talking about it, you and me. And I just told you a tiny bit of what I'm goin' through every single day. That's what I just did."
Carl's eyes find Wilson's.
Wilson nods. "So, how about that coffee?"